A range of one off events, workshops and retreats held at various times of the year.
Mandala Yoga Workshop
South West Women's Health and Information Centre
19 Fielder Street, South Bunbury
May 8, 2021
1:00 pm to 4:00 pm
A sacred circle workshop to connect through Yoga and Meditation. The workshop will include a sound bath from Koshi chimes, frame drum and crystal singing bowls along with an option for some aromatherapy oils or mist.
After a delicious afternoon tea the workshop will also allow you time to express your creativity by creating or colouring in your own mandala.
The mandala symbolises community, our need to gather together, to share and belong. Please join me on the Saturday before Mother's Day to take some time out to rest, relax and restore.
BYO yoga mat, blanket/eye pillow for relaxation and cushion for meditation. Limited number of bolsters available to loan. Places are limited to 10 people to keep the circle a small and intimate space.
Price $50
Book Now
Retreat into Stillness
Loose Goose Chalets, Nannup
July 16, 2021 – July 18, 2021
Winter Yoga, Meditation & Ayurveda Retreat
Take a break into stillness.
Every now and then we need to pause.
Experience stillness and equanimity.
Winter is the perfect time to get back to nature, connect with your surroundings and find your still point. Join us for a replenishing weekend of Yoga, Meditation and Ayurveda along with time for rest, relaxation and reflection.
A small group retreat (10-12 participants) that is suitable for 'every body' and no previous Yoga or Meditation experience is necessary.
The retreat will be co-facilitated by Nicky Smith (Dru Yoga Teacher) and Engel Prendergast (currently undertaking a Graduate Diploma in Ayurveda) who both share a passion to support individuals to become balanced and in harmony with themselves and nature – physically, mentally and emotionally.
Price
$600 early bird option (paid in full by 30 April)
$650 full cost option (paid in full by 28 May)
Rest and Respite
We encourage you to take a break from technology as there is no wifi and limited mobile phone coverage. Our focus can then be consciously tuned to experience the present moment, the natural world and our own inner stillness. Many people come to a retreat for rest and respite. We have allowed time in the program for the rest and reflection you need. You'll have the time and opportunity to get to know and share with others if you wish. Equally there are plenty of places at the venue and chalets to retreat.
Inclusions
The retreat cost includes Yoga/Meditation practice, Ayurveda talks, shared accommodation. Delicious and nourishing vegetarian (and mainly gluten free) meals, snacks and refreshments prepared on site by the venue owner and award winning  Chef Lyn Curtis.
Accommodation
There are three chalets with options including double bed room (1-2 people), shared bedroom with adult bunks (2-4 people) or loft bedroom (1-2 people). Shared bathroom in each chalet. All linen provided including towels. If you are attending with friends we can endeavour to have you stay together. If you would like the option with the double bed room or if you are attending as a couple book early as rooms will be allocated on a first come, first served basis.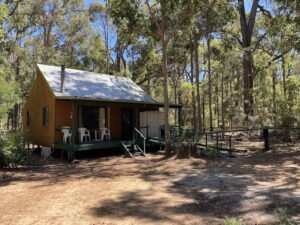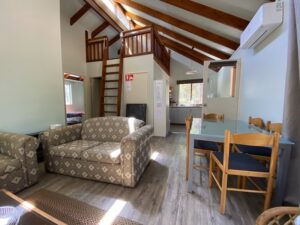 Venue
The Loose Goose Chalets and Function Centre in Nannup is located five minutes from the centre of town, in a tranquil bush setting. There are wood-fired heaters in each chalet and in the rustic function room where we will practice there is also a wood fire to keep you cosy warm. You can also take the opportunity to relax and enjoy the surrounding bush walking trails and local wild life.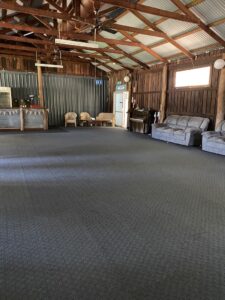 What to Bring
Please bring a yoga mat, cushion, blanket, eye pillow or anything else to be comfortable for yoga and meditation practice. A limited number of bolsters will be available to use. Weather permitting we will practice some yoga outdoors and go on a nature walk so bring warm clothes, wet weather jacket and spare shoes. You may also want to pack a torch for the walk back to your chalet. If you have a djembe drum or other hand drum bring it along for a drum circle, cacao ceremony and meditation around the fire on the Saturday evening.
Program
You are welcome to arrive and settle in any time after 3.00pm on the Friday with the Welcome Circle, followed by a one hour Yoga practice commencing at 5.00pm. If you cannot make it until later please join us for a tapas style dinner to mingle with other participants starting at 6.30pm. The program will continue on Saturday and then conclude after the closing circle at 12 noon on Sunday with the option to stay for lunch or a take away option for the trip home.
Please read and acknowledge both the True Equanimity Yoga and Mental Strides Privacy Policy and consent to the use of your information by both. By registering for the event, you will be added to the contact and email subscriber list of True Equanimity Yoga and Mental Strides. You can unsubscribe at any time from either list.
Due to the nature of this event please note that your event booking is non-refundable. Tickets are transferable, please contact the organiser nicky@equanimity.yoga should you wish to gift your ticket to someone else.
All participants and organisers agree to abide by COVID19 regulations. Unwell participants are asked not to attend and must notify the organisers immediately. True Equanimity Yoga and Mental Strides reserves the right to modify the activity list, cancel or re-book the event if necessary, e.g. due to unforeseen circumstances (such as imposed COVID-19 restrictions on events). All efforts will be made to re-schedule events rather than cancel in this situation. Should the event be cancelled by the organisers, a refund of the ticket price (minus booking fees) will be offered.
Understand that participation in the retreat activities is at your own risk and neither True Equanimity Yoga, Mental Strides nor the venue Loose Goose Chalets will be held liable for injuries or reactions sustained while participating. Use your own discretion should you not wish to participate or withdraw from participating due to knowing your own limits. If at any time during the event should you feel uncomfortable for any reason, please notify the organisers immediately. The organisers have current First Aid and Mental Health First Aid training. Should emergency health care be needed, an ambulance will be called at your expense.
All information provided during information sessions and workshops is for your own consideration and reflection. Practices and information presented are provided as general information only and should not be used as medical advice. The practices provided are forms of complementary medicine and they do not replace medical advice or treatments provided by other medical professionals. If you have any concerns, please see your General Practitioner or other medical professional prior to attending the retreat.
Photos and videos will be taken at the event by the organisers which may include your image and/or voice. This media will be used by True Equanimity Yoga, Mental Strides and the venue for marketing purposes. By registering you are providing consent for your image or voice to be used in this way. Should you wish to withdraw this consent, you must advice the organisers at the time of booking or checking in at the retreat.
Book Now