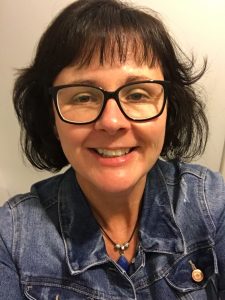 I am a student Dru Yoga teacher and have been practising Dru Yoga personally for over ten years. I love Dru Yoga for the equanimity and calmness it brings as it balances my physical and emotional wellbeing.
I have worked in the community services sector for twenty years with young people and older adults as well as in the mental health sector. I have lectured in community services at TAFE, managed headspace Bunbury youth mental health service and I currently work in health promotion and injury prevention. I have also facilitated Living Well chronic disease self management courses which included guided meditation and progressive muscle relaxation.
I am a member of Amnesty International Australia, campaigning for human rights around the world. I was drawn to Dru Yoga with its involvement in the World Peace Flame. I live in Dalyellup with my family including three cats and love walking in nature, enjoying our café culture, being in a book club and going to the movies.